Five Quick Tips for Gorgeous Food Photography
Danielle and Michael Kartes of Rustic Joyful Food (pictured below) recently hosted a food blogger workshop in Seattle, Washington. Danielle is the face of Rustic Joyful Food and is an author, national television personality, food stylist and recipe developer. Michael is the photographer of the duo and is also an editing wiz. They are warm, kind, and generous with an abundance mentality. Danielle and Michael freely share their knowledge with anyone that wants to learn more about food photography, blogging, styling, and cooking.
Their workshop taught attendees how to become more effective food bloggers. The goal of food photography is to make the viewer's mouth water and make them feel like they could reach into the screen and eat the food. You want your food pictures to evoke a visceral reaction. There were so many nuggets of wisdom presented, but here are my five top takeaways from the day:
1. Lighting
The first (and most important) step is to find good, natural light. Florescent lights will turn beautiful food into a ghastly color. Conversly, harsh sunshine can also wreck havoc. Find a nice, big window with natural light streaming through. Set up a table nearby for photography and make it your go-to space.
2. Props
I understand if you don't want to spend a fortune on French linens and antique silverware, but it is important to have a selection of pretty props for styling. Colorful linens (the more colors you have the more options will be available to you), stylish utensils, interesting serviceware, gorgeous flowers, etc. Many of these items can be purchased at garage sales, thrift stores or found at your mom's house. Owning a few surfaces is also helpful. From natural boards to distressed colors, surfaces give your pictures variety and can make your food pop. You can purchase photography surfaces or there are several tutorials online on how to make your own.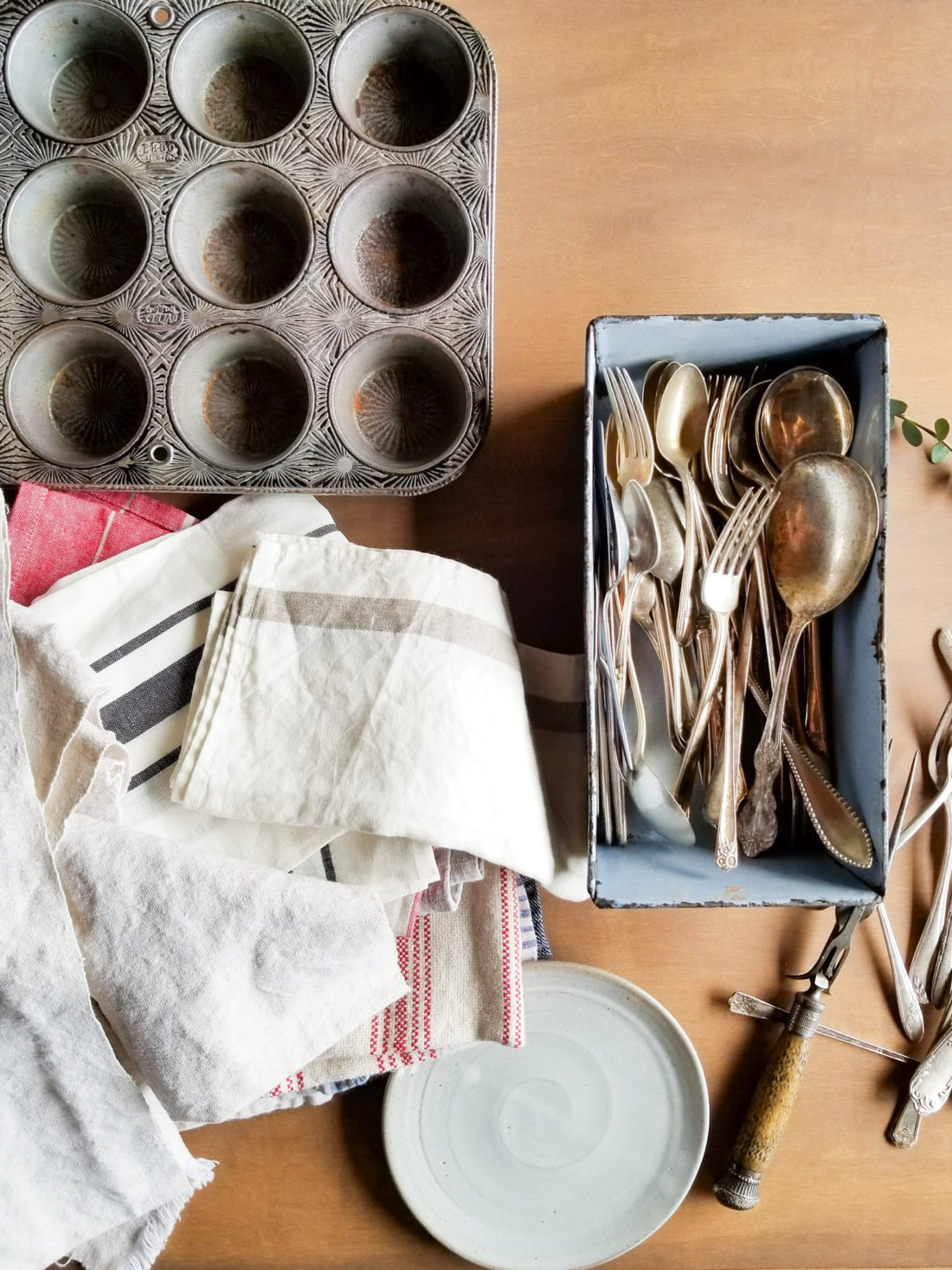 3. Layers
When photographing food think layers. For example, if shooting a tomato soup, don't just shoot a bowl of soup. Play with linens, silverware, dried flowers, etc. until you find a pretty shot. Next, layer accoutrements on top of the soup such as crème fresh, hand torn croutons, oils, or finely chopped herbs. Strike a balance between plain and overdoing it. Look through your viewfinder and take shots until you find the picture that just seems to pop.
4. Equipment
Successful food bloggers sometimes are 100% iPhone or Android shooters while others have thousands of dollars of equipment and lighting. Most fall somewhere in between. If you want to increase your game with equipment visit a reputable camera store or find someone you admire that takes gorgeous photos and offer to make them a triple layer cake in exchange for picking their brain.
5. Editing
Editing tools can take your pictures to the next level. Instagram has decent editing tools right in the app. There are also apps such as Lightroom and VSCO. Many apps offer their basic services for free. If you want more they charge a fair rate. Adjusting brightness, cropping, adding or subtracting warmth or clarity are all important to making your food look luscious and drool worthy.
I hope that these five tips help start you on your food photography journey. I know that this barely scratches the surface of food photography, but I've found if you begin here you are well on your way to success.
This is not a sponsored post. Views and opinions are my own.